Half-Life (Dreamcast)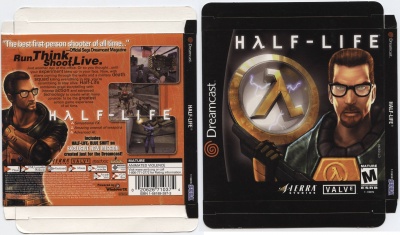 Half-Life (Dreamcast) is a cancelled
Half-Life port for the Sega Dreamcast was in development by Gearbox Software and Captivation Digital Laboratories for a 2001 release. It was eventually cancelled by Sierra following declining console sales.
Half-Life: Blue Shift was initially planned as a Dreamcast exclusive campaign.
Near-final versions of the game were eventually found and dumped, and their contents were ported to the PC version of GoldSrc as a mod.
Several high-profile GoldSrc mods were ported to the Dreamcast by fans, including Gunman Chronicles, They Hunger and USS Darkstar.
GoldSrc

Half-Life (also on PS2)  • Half-Life: Uplink  • Half-Life: Opposing Force  • Half-Life: Blue Shift  • Deathmatch Classic  • Ricochet  • Half-Life: Decay (only in PS2)
Third party: Sven Co-op  • Half-Life: MMod


Upcoming:

Half-Life Decay: Solo Mission

Cancelled:

Half-Life (Dreamcast)

 

•

More

Source

Half-Life 2 (also on Xbox)  • Half-Life 2: Episode One  • Half-Life 2: Episode Two  • Half-Life 2: Lost Coast  • Half-Life 2: Deathmatch  • Half-Life: Source  • Half-Life Deathmatch: Source
Third party: Black Mesa( Black Mesa: Blue Shift) • Half-Life 2 RTX  • Half-Life 2: Update  • Synergy


Cancelled:

Half-Life 2: Episode Three

 

•

More

Source 2

Cancelled:

Half-Life 3

 

•

More

Other Engines

Third party:

Codename: Gordon

(

)

Related series