base_boss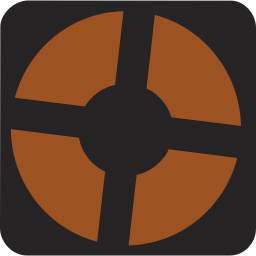 base_boss is a point entity available in Team Fortress 2. Its the entity that thetank_bossentity, seen in Mann vs. Machine, uses as a base, and has most of its behavior originating from. Thus so, it shares many behavior found within thetank_bossentity. A few examples being:
Crushes engineer buildings that collides with it
TFBots treat this entity as an enemy
Drops currency pack on death
Plays sounds to a client when it gets damaged
By itself, it is static and does not perform anything. However, it is still of use in setting up a custom hitbox for any custom static NPC bosses
In code, it is represented by theCTFBaseBossclass, defined in thetf_base_boss.cppfile.
Keyvalues
health <integer>

Determines the initial health.
model <string>

Filepath to the model this entity will use. Will use the model bounding box to determine its hitbox and collision
speed <float>

The speed that this entity moves.
start_disabled <integer>

Start the entity disabled.

Base:
Parent

(parentname)

<targetname>

Specifies a movement parent. An entity will maintain its initial offset from its parent. An attachment point can be added to the end of the name, separated by a comma. Every entity can be parented, even point entities. Entities which are parented will be forced to transition to the next map, such as from a trigger_transition. Some entities which aren't intended to be parented may not function correctly. phys_constraint can be used as a workaround to parenting.
Global Entity Name

(globalname)

<string>

Name by which this entity is linked to another entity in a different map. When the player transitions to a new map, entities in the new map with globalnames matching entities in the previous map will have the previous map's state copied over their state.
Origin (X Y Z)

(origin)

<coordinates>

The position of this entity's center in the world. Rotating entities typically rotate around their origin.

 Note: 

While this can override positions of where some entities spawn at, Hammer does not move the entities accordingly.
Pitch Yaw Roll (X Y Z)

(angles)

<angle>

This entity's orientation in the world. Pitch is rotation around the Y axis, yaw is the rotation around the Z axis, roll is the rotation around the X axis.

 Note: 

This works on brush entities, although Hammer doesn't show the new angles.
Response Contexts

(ResponseContext)

<string>

Pre-defined response system contexts; Format is key:value,key:value,...and so on. Can also be filtered for or against.
The classname defines the type of entity. Classnames can be changed usingAddOutputinput, which may influence how the engine deals with the entity in certain circumstances.
Toggles exclusive features of an entity, its specific number is determined by the combination of flags added.
The entity's Hammer ID, which is auto-generated on map compiles. Mainly used by plugins and debugging commands, such as theent_keyvaluecommand. Run-time spawned entities aren't assigned a Hammer ID.
Inputs
Sets the entity's health to this value.
Sets the entity's maximum health to this value.
Add this amount of health to the entity.
Subtract this amount of health from the entity.
Sets this entity's speed to this value.
EnableDisable:
Enable

Disable

Enable/disable this entity from performing its task. It might also disappear from view.
Base:
Evaluates a keyvalue/output on this entity.
Format: <key> <value>
Format: <output name> <targetname>:<inputname>:<parameter>:<delay>:<max times to fire, -1 means infinite>

Kill

Removes this entity and any entities parented to it from the world.

KillHierarchy

Functions the same as Kill, although this entity and any entities parented to it are killed on the same frame, being marginally faster thanKillinput.

SetParent <string>

Move with this entity. See Entity Hierarchy (parenting).

SetParentAttachment <string>

Change this entity to attach to a specific attachment point on its parent. The entity will teleport so that the position of its root bone matches that of the attachment. Entities must be parented before being sent this input.

SetParentAttachmentMaintainOffset <string>

As above, but without teleporting. The entity retains its position relative to the attachment at the time of the input being received.

ClearParent

Removes this entity from the the movement hierarchy, leaving it free to move independently.

FireUser1

to

FireUser4

Fire the OnUser outputs; see User Inputs and Outputs.

AddContext <string>

Adds to the entity's list of response contexts. Format is <key>:<value>.

RemoveContext <string>

Remove a context from this entity's list. The name should match the key of an existing context.

ClearContext <string>

Removes all contexts from this entity's list.
Dispatches a special effect from the entity's origin.

Use  !FGD
Outputs
OnHealthBelow90Percent

to

OnHealthBelow10Percent

Fires when the entity's health goes below X percent of its maximum health.

OnKilled

Fired when the entity is killed.
Base:
OnUser1

to

OnUser4

These outputs each fire in response to the firing of the like-numbered FireUser1 to FireUser4 Input; see User Inputs and Outputs.
Trivia
Initially, this entity was made for the ultimately scrapped PvE gamemode, Raid, and was to be featured more extensively with the mode's custom NPC bosses.