Portal Design And Detail
Introduction
The most important thing in any map is design and detail. This is especially important when making a Portal map. A Portal map needs to have a well planned layout, be fun to play, and be visually attractive.
Step 1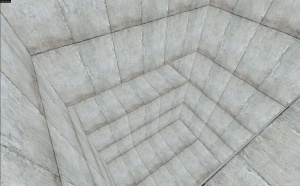 The first step to use when making a Portal map is to first design a rough, and simple map. This is generally done with dev textures, and it is generally completed in about 4-5 minutes. At this point, you should thoroughly play test this area, and determine what areas will be portable and non portable.
Step 2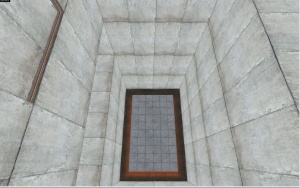 Now detail the areas where portals will be placed. I moved the top section in and added a hazard texture, and I shrunk the floor and made it into a platform.
Step 3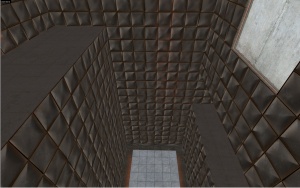 Now add metal textures where players will not be able to place portals on. The metal textures will have standard detail for now. Play test this section again, and find any glitches.
Step 4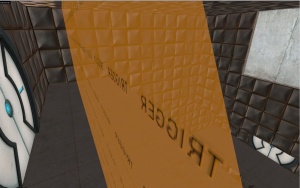 Now add doors, buttons, catchers, and triggers for the area. Now play test the section thoroughly. It will be very difficult to modify the detailed walls afterwards.
Step 5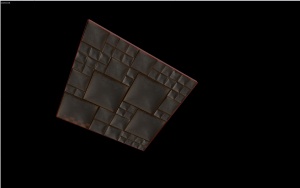 Now, add detail in the metal areas. See Detailing metal walls for more information.
Step 6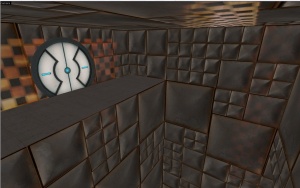 Now, finish off the rest of the section.
Step 7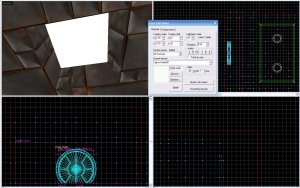 Next add lights. The trick is to have them uneven. That way it is more attractive. The best white texture to use is white001. If your hole is 64x64 or larger, place an invisible-textured block in it to prevent the player or boxes from getting into it.
Step 8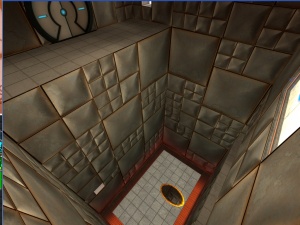 Admire a job well done and fix minor texture alignments and bugs.
Detailing Metal Walls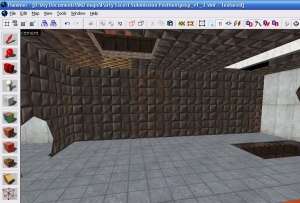 The walls in official Portal test chambers tend to be made of blocks of various sizes. It's considered more aesthetically pleasing to simulate the effect in custom maps than to have generic walls of the same sized tile.
Steps
Find the wall you want to detail. It may help to cordon it off. Resize the wall to 128x128 and texture it with the largest metal wall texture. Copy the block to random places on the wall, snapping them to a 32x32 grid so as to not create problems later.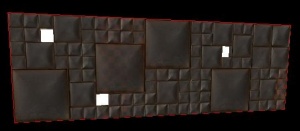 Repeat this process for the medium and small blocks.
Move some of the blocks in or out 8-32 units randomly. Try not to have many moved blocks next to each other if they are the same amount of units moved.
Move some of the blocks back 32 or 64 units and texture them with a light texture like lights/white001. Be sure the player can't jump inside them and cheat (you may want to use a clip texture).
Remember to turn off cordon and re-enable any disabled visgroups. For the final touch, place env_cubemap entities around the distinct sections of the wall (no more than three for most average-sized walls).
Compile and buildcubemaps in the console. When it's all finished, you should have a blocky wall like in most test chambers that accurately reflects light.
See also