phys_ballsocket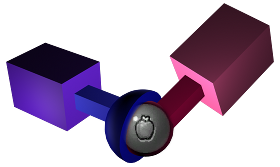 phys_ballsocket is a point entity available in all
Source games. It simulates a rigid connection between the centre of its constrained entities and its own location that prevents them from changing relative distance and makes their rotation point its own location. Most constraints, if given two entities, will constrain them directly to each other; phys_ballsocket will constrain them to itself. Despite this slightly different behaviour however, the entity still won't remain at a fixed location when two entities are attached.

Todo:
Can you constrain the constraint?

Note:
Torque limit is always 0 (infinite) for this entity.
Example map: sourcesdk_content\hl2\mapsrc\sdk_phys_ballsocket.vmf
Keyvalues

TwoObjectPhysics:

Targetname:
The targetname that other entities refer to this entity by.
Flags
 [1] : No Collision until break
 [8] : Change mass to keep stable attachment to world
 [16] : Do not connect entities until turned on
Inputs

TwoObjectPhysics:
Break

Force the constraint to break.
TurnOn

Enable the constraint; do this if the constrained objects don't exist when it spawns. Note that broken constraints cannot be turned back on as they have been deleted.
TurnOff

Disable the constraint.
Outputs

TwoObjectPhysics:
OnBreak

Fired when the constraint breaks.