Gantz Source
This mod for Source is no longer being developed.
Overview
Gantz Source aims at making relive the experience of Gantz, including a lot of new stages, new players, new monsters, and a great gaming experience.
Features
three game modes: Coop, (Team-)Deathmatch and eventually Last Man Standing
weapons, blood, and aliens
a new gaming experience
Media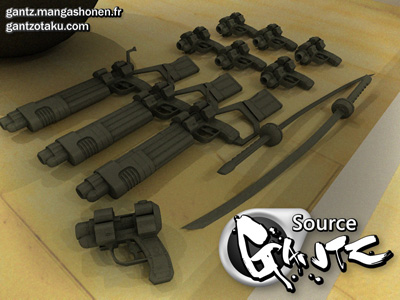 All the weapons are created by D'Hell Pyros, who is a 3D Artist in the team. You can take see more pics and the other weapons on the official gallery.
History
This idea cames in summer 2006. Wind Helleven, graphic designer in the Mario Kart Source's dev team, had just discovered Gantz and he recruited people to make the mod. Regrettably the project had been abandoned, but it was relaunched finally at the beginning of 2008. Now, at the end of 2008, the project really started.
Team
Wind Helleven: Leader of the team, he is the webmaster and a SFX Artist in the team too.
D'Hell Pyros: 3D Artist, he mades the awesomes weapons of the mod.
Phenicks: Coder
JacobH: Coder
ChaosLink: Illustrator

We are seeking for coders and animators who have a good experience in their domains.
External links