Pit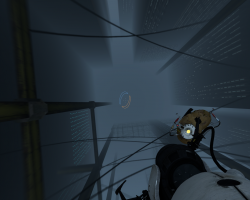 Bottomless pits are used as obstacles in Portal 2 and destroy objects and players that drop into them, just like grinders and deadly goo. They trigger a fade to black for players that fall into them.
Entities you need
trigger_hurt (using the block tool)
Making the deadly pit
Take your block tool and make a block, with the trigger texture, in the place where you want the player's death. After that press [Ctrl+T] and make it trigger_hurt. You can see many properties but we are only going to use the "damage", "damage cap" (only if you have chosen Doubling w/Forgiveness) and the "damage type" properties.
Final things you need to do
Change the properties
| Property Name | Value | Help |
| --- | --- | --- |
| Damage | 1000 | The amount of damage done to entities that touch this trigger. The damage is done every half-second. |
| Damage cap | 1000 | Maximum damage dealt per second. This field is only used if you select the Doubling w/Forgiveness damage model, via the spawnflag. |
| Damage type | FALL | - |
See also