BlockStorm

This mod for Source has been released! =20 Download it now.
Overview
BlockStorm is a remake of the old and extremely famous arcade game Arkanoid. Your mission is to break all the blocks you can see in the screen, that's all. No blood, no guns, just a weird pipe floating and moving in a X axis and a ball with a strange physic movement with no inertia breaking coloured blocks. So simple and funny!
What makes this mod different to the others? Besides this is a version of Arkanoid and Pong all together in a mod for Source Engine, the real challenge is that this mod has been completely created just using Valve Hammer Editor thanks to the Input/Output system to develop a completely new game.

I really wanted to show what Valve Hammer Editor was able to do through some "experiments", as a personal project, like this mod. I have some others half-done and ready to be continued, but this one will be the first to be finished.
Check out for more SDK-Projects in my website: SDK-PROJECT
Features
- Two different challenges with 10 unique levels each one.
- Score counter & Combo system.
- 7 different powerups (Multiball, Destroyer, Shield…).
- PONG MODE for 1 or 2 players (In the same screen) with 4 different maps with the first functional menu made with a level editor.
- 5 music tracks.
- Instructions to create your own player for PONG MODE.
- Original VMF maps included (But you have to unlock them by playing ;) )
- New Intro sequence.
Fixes:
- Blocks now don't throw gibs when the ball breaks them.
- Ball and platform speed increased
- Now you can change music track by pressing forward and back while playing.
- Fixed a problem with the platform when the player tried to cover the right side in each level.
- Ball now respawns over the platform, not in the middle of each level.
- Combo Counter now counts until 36.
- Difficulty adjusted.
Possible bugs:
- Score counter sometimes gives 1000 extra points to the player when ball is breaking several blocks at the same time.
- There is a little probability to lose the ball if the platform push it when it's stuck between the wall and the platform.
- Some possible minor bugs with overlays and sounds when changing the level or in credits screen.
- How the ball moves is not considered a bug… is just the way physics in Source Engine make the ball behave. ;)
History
This mod took around 9 weeks to be completed.
Team
Created by:
- Baxayaun (Enrique Colinet Morales - Spain)
Music by:
- V.L.CODE
- DJ SUDS
- Aikapallo
- Elwood
MODDB AWARDS 2007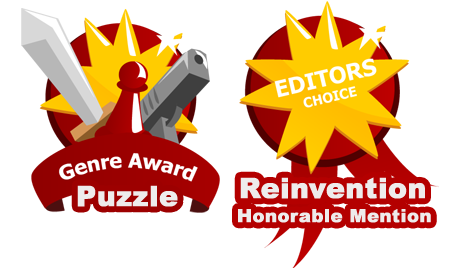 External links