Средства разработки для Portal 2
From Valve Developer Community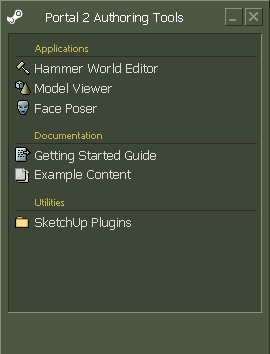 It is worth noting that the basics for creating levels and gameplay elements for Portal 2 are based on the same principles as in the first Portal (see the Level Development for Portal category). Therefore, in this section, more attention will be paid to the creation of new game elements, such as air panels of faith, light bridge, etc. (See section Level Design forPortal 2).

For more information see FAQ по дизайну уровней и категорию дизайна уровней.
Availability
Portal 2 Authoring Tools - Beta available for free download on Steam to all owners of the PC version Portal 2.
Download and install
For installation Portal 2 Authoring Tools - Beta, click on here or:
Restart Steam if it is running..
Open the 'Steam' window.
Select the 'Tools' tab.
Double click on 'Portal 2 Authoring Tools - Beta' .
Portal 2 development tools will be downloaded to your computer via Steam.
Once the installation is complete, you can run them in the same way that you installed (from the 'Tools' tab).