Late Britain

This mod for Left 4 Dead 2 is currently in alpha development.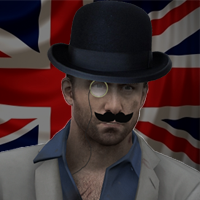 Overview
Late Britain is a campaign by Spoon God, which brings a British environment into Left 4 Dead 2.
Unlike the American cultures experienced in Left 4 Dead and Left 4 Dead 2, England has very strict gun laws and as of such barely any are owned. Because of this, the first part will be played with 'Tier 0' weapons - melee weapons and pistols. Weapons will be obtained in later levels by signalling a passing cargo plane to air-drop a weapons crate.
Features
Campaign set in Great Britain
'Tier 0' weapons at start
School level with weapon crate airdrop mini-finale
"Non-standard" finale
Full Versus mode compliance
Media
More images on the ModDB Image Gallery
History
The campaign was started in late October, 2011.
One minor aesthetic issue is that VALVe's vehicle models have the steering wheel on the left-hand side, whereas British cars' steering wheels are located on the right.
Team
The campaign was started by Spoon God as a solo project, however, any offers to help will be appreciated.
Wanted:
Someone who can simply mirror the L4D2 car models so the steering wheels are on the right, not the left
A few more testers
Contact
External links