Golden Horn
This mod for Source is no longer being developed.
Golden Horn is (the working title of) a complete conversion using the Source engine. It's a modern, military single-player and multi-player First Person Shooter.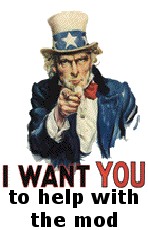 This mod needs:
2 Modelers
2 Coders/Programmers
1 Level Designer
1 Interface Designer

Help Would Be Appreciated In:
Animation (1 person max.)
Sound effects (1 person max.)
Game Information
Status

Currently in planning/recruiting stage. Development on Golden Horn will begin in February 2008.
Multiplayer

The game features classic multiplayer action in Deathmatch, Team Deathmatch, Assassination, Capture the Flag and Hostage gametypes, as well as new gametypes such as Treachery, and Territories, which are self-explanatory.


Weapons

It's 2010, not 2100. You have modern weapons, not plasma or laser weapons. You carry a primary weapon, secondary weapon and a sidearm, as well as a maximum of 4 grenades. There are eight grenade types, allowing multiple strategies to each situation. You also carry up to 5 knives, 4 of which can be thrown.


Equipment

You also have an option of equipment. There are five types of equipments, and two to four options in each category. They will be revealed closer to release date.



Current Team

+Constantine Palaelogus: Project Manager, Writer, Public Relations Manager (or the guy-who-updates-our-blogs-and-stuff), Recruiter, 3D Modeler, 2D Graphics Artist, Partial mapper and programmer.

+Jar Head: Recruiter, Level Designer, Soundtrack-composer.



Help Needed

Ok, so now that you've got an idea of the game, here are some things you can help with:
- Programming/coding (Artificial Intelligence, etc.)
- Cut-scene animation
- Modeling
- Map planning and/or creation (w/wo triggering)
- Sound effects
- Interface Designing
History

The original idea : December 4, 2007
Some planning: December 5-6, 2007
Second team member: December 6, 2007
Levels 1-3 planned: December 23, 2007