Cat-Life
This single-player mod for Half-Life is no longer being developed. Download its last release here.
Overview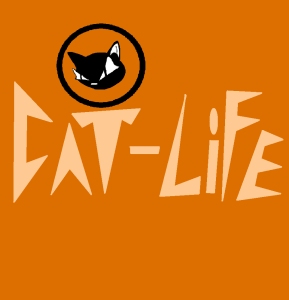 Black Mesa, New Mexico...
With regular system crashes and over-driven equipment, a disaster must have been inevitable. Deep within the tunnels and carved corridors of the top secret research complex within the mesa itself, the catalyst was introduced.
When your only companion (indeed your best and only friend of this piddling existence) suffered from an untimely death, you couldn't help but feel lost and vulnerable. And when you stumbled into a series of strange and unnatural incidents, you soon realized that no one cared about YOUR life. No one would take the time to befriend you... to help you... to save you.
People were dying. And your best friend was one of many victims. You were forced to survive alone. To live by any means necessary. And to do it your way.
Of course, it didn't help that you were born a cat.
Cat-Life is an original concept for Half-Life and the GoldSource engine. Players will experience the Black Mesa incident from the view of a stranded pet cat. Using claws and teeth and the natural prowess of a cat, players will travel through the bowels of Black Mesa. Xenian beasts roam the corridors and laboratories and, surprise, cats are conveniently bite-sized for those in-between-meal munchies.
This mod is planned to include 6 chapters and a new training course.
Features
New cat-training course.
6 chapters with over 30 new maps.
A cat's natural weapons: Claws, teeth, and improved vision in the dark.
Hidden areas and humorous surprises.
News
Cat-Life Beta Announcement - 06-09-2009
Originally imagined in 2003 as a mod for Half-Life, Cat-life has spent a great deal of time on hiatus over the years. After a long delay due to missing team leadership, the mod reorganized under current Team Cat-Life leader BiGToM. Yet the greatest missing component, a coder, remains absent. The biggest single set-back has been the cat's POV code.
However, as has been stipulated before, this mod about a cat trapped and ownerless during the Black Mesa incident has plenty of lives left. Earlier this week, BiGToM announced that an older piece of code from prior efforts had been successfully implemented. The original code had been fraught with bugs such as monsters sinking into the floor. Nevertheless, after a lengthy wait for a new coder [a wait that included a cash reward], the early code was modified and fixed.
Now, with corrected code in hand, Team Cat-Life is able to wrap up other portions of the mod. With this news, the team has also announced a target date for the first stage of Open Beta testing. Expect to be able to download and play the Cat-Life beta in November.
The beta will also include additional bonus content including maps that were cut from the project and some of the original concept.
To help celebrate, I've asked BiGToM for some new screen shots for the gallery. We've now added four new images. Also, be sure to keep an eye on PHL, TWHL's Forums, HL2Files, and our FPSBanana Account for this press release. I dispatched two "exclusive" screen shots to each of those sites with our news and those images will not be added to the gallery.
Also, and this is to clarify previous statements, the team does not intend to stop work on Cat-Life and switch over to the Source engine. There is, however, an ongoing discussion regarding the possibility of either converting a finished Cat-Life to Source or, more likely, making a sequel using Source.
No matter the outcome of that discussion, Cat-Life will begin its open beta in November and we do want it finished before moving to the next project.
And if you are interested in working on a sequel in Source, and happen to know how to code, contact me at [email protected]. I personally would like to have someone writing new source code long before the team is actually ready to work on a second mod and possibly accelerate the development process.
Cat-Life nearing release to give room for Cat-Life: Source - 15-06-2010
The_Wildcat announced on ModDB that the team was in the process of finishing the mod for a release, after which they would start working on Cat-Life: Source (CLS).
Media
For more visit the official site or the ModDB profile.
Team Cat-Life
Team Cat-Life has changed considerably down through the years. Here is the list current as of the 18th of October, 2008:
   Sayrken (aka BiGToM) [Team Leader, Mapper, Basic Coder]
   Jan1024188 (leader of Half-Life Ultra) [~INNERCODE~r]
   DS (aka Dark Shadow) [Mapper, Concept Artist, Writer]
   Bodyhun [3D Artist]
   Simbl [Level Designer]
   JKBlackNinja [Level Designer, Beta Tester]
   d3mon [Mapper]
   Djquick [Beta Tester]
   Friendly Garg [Original Concept]
   The Wildcat [Web Director]
   CXX.LIU  [mapper/leveldesigner]
   Tosse -- Music Composer
   Radu Ic3man -- [2D Artist, Logo]
   Our Mod-Watchers and Fans -- [Original Concept, Cat Name?]

External links
History
Cat-Life has one of the most unique histories of any Half-Life mod. In fact, it's development cycle is unparalleled, mainly due to delays.
The following are excerpts from my article "9-lives". For the full story, visit the BWL Development ModDB Page or This Thread on our forums.
Cat-Life started quietly.
Strikingly, the original, short-lived incarnation called for the player to exist as a Scientist-cat hybrid with cat friends.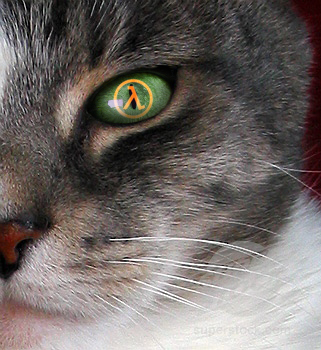 Many members of the forums had pet cats and a series of topics developed from old pet stories. The subject soon turned to the nature of Gordon Freeman's cat... and debates about other scientists arose. And soon a different idea for the mod formed.
You'll be playing as a cat, trying to escape Black Mesa. Your master, one of the scientists, has died and you have to find your way out on your own. You'll be having enemies such as headcrabs and houndeyes so the game wouldn't get too difficult with large aliens. There will be larger enemies in the game, but these will be taken out on a different way. After all, your not a super cat and you can't carry weapons!
Discussions on the Garg-o-holics forums quickly turned to delaying further progress to make use of the Source engine, slated for a late September release. Unfortunately, Half-Life 2 was delayed. And delayed. And delayed. And delayed.
Therefore, Cat-Life remained a GoldSource project. The Garg-o-holics managed to produce a fair amount of new planning in the early days. A "faked" concept image or two were prepared. Forum polls appeared regarding the name of our cat. Special cat moves were discussed and diagrams were prepared. For a time, there was even an effort to produce the Half-Life version of the mod prior to Half-Life 2's ever-changing release date.
Those hopes began to fall apart as Friendly Garg faced a number of issues ranging from real life problems to an attack on the website and its host server during early 2004.
The January 30th attack on the Garg-o-holics host, hlgaming/EdgeNetwork, proved disastrous.
Every project homepage was gone. The main page and forums were gone. Even the story scripts were overwritten. Ultimately, Friendly Garg felt that his hobby had become too much of a full time job and that perhaps someone else would be better suited to administer the website and lead the mod teams.
In March, after more then a month of down time due to real life, he posted requests for volunteers to assume control of the website and restore it. Further, he posted requests for new team leaders for both mods. (Cat-Life and GargArena)
On the 2nd of May, Friendly Garg finished restoring the basic functions of the Garg-o-holics website...loyal forumites were thankful merely to have the site restored after three months.
It was at that time that Friendly Garg began a fresh recruiting effort for Cat-Life. The original team had collapsed under inactivity and an entirely new Team Cat-Life would be needed... The partial team that formed hoped that the Source engine would offer revival for the mod.
In August of 2004, pre-loading of Half-Life 2's content began via steam.
Regrettably, Team Cat-Life did not experience a new surge of activity. After all, modding for HL2 was a relatively new experience and a lengthy hiatus had done nothing to bolster interest in what was effectively still a fledgling mod about a cat.
There were also continuing issues with the Garg-o-holics host server. Additional minor attacks on the forums, which had become the life-blood of the mod, virtually nullified Cat-Life discussion. At one point, the question of maintaining the GargArena and Cat-Life sites arose. Was it really worth the trouble?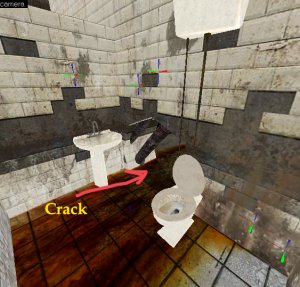 The forum members remained hopeful, and so Friendly Garg updated the mod pages and retained the Cat-Life forum. In December, the entire Garg-o-holics Portal changed host services. Now hosted by hl2files, planning for Cat-Life resumed.
Subsequently, for the first time, Cat-Life found a new team leader. A new art style was proposed and interest in the mod grew.
Regrettably, that was the limit to the new updates. The mod sank back into hiatus. Worse however, the Garg-o-holics Portal suffered a series of setbacks and fell into disrepair.
For nearly a year, there were barely a few news updates posted on the home page. The site was stricken by inactivity and there was no forum community to keep Cat-Life alive... until June of 2006.
June brought a revival of the website under new leadership. The Garg-o-holics Portal was wiped away and Bored With Life settled in its place.
Friendly Garg posted one more request for a new Team Cat-Life leader in July 2006. The response was nearly immediate.
(The new team leader) announced that the mod would once again be developed for GoldSource. He also introduced the mod as a comedy. The storyline drew mixed reactions and the cat became known as "Hitler Jesus cat".
Alas, the latest manifestation of Cat-Life lasted slightly over a month. Little more then the new story ever appeared.
This seemed to be the final death throe for Cat-Life. There was no mod team. No leader.
Despite pleas from the community, no volunteers were found. BWL moved on, but the leadership maintained the Cat-Life page and forum in hopes that some day, some one would save our poor cat.
Another year passed...
And then... on the 6th day of October, 2007 one of the loyal original Team Cat-Life mappers made a surprise announcement.
BiGToM (aka sayrken) assumed the role of Team Cat-Life leader with deliberate intent. He started working on the mod single-handedly. He dropped the humor storyline for something more moderate. A serious story of a cat trapped within Black Mesa, but including comedic moments and allowing the story to grow organically.
Recruitment began anew. And suddenly screenshots appeared. A video. Real progress.
Almost five years after this mod formed in the minds of forum regulars, we may finally see the cat clawing its way to freedom one headcrab at a time. The recent press release seeking new Team Cat-Life recruits has had a pleasant degree of success. BiGToM indicated that he has received several emails from people that wish to join.