Developer console/pt-br
Language subpage
This subpage is used on the Developer console page to display content in português do Brasil (Brazilian Portuguese).
If you have edited the language subpage, do not forget to purge the base page by clicking on the button on the right. Otherwise, its contents will not be updated.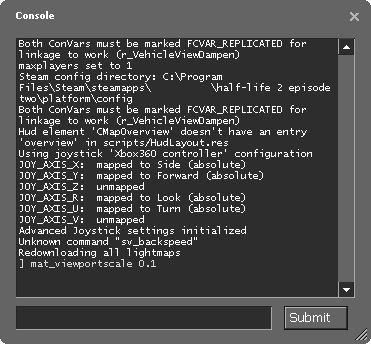 O console fornece uma interface de comandos para configurações avançadas de jogos feitos na Source. A maioria das configurações podem ser alteradas pelo console;
Ativando o Console
O console é desativado por padrão. Para ativa-lo, carregue o jogo e acesse Opções > Teclado > Avançado. Vai abrir uma caixa que contém 2 opções. uma dela chamada "Ativar Console do Desenvolvedor". Quando ativado, pode ser aberto a tecla acima do Tab ⇆, conhecido como "til." ~

Notar:
Isso deve funcionar "independentemente" do layout do teclado. Se isso não acontecer, adicione -console </ code> às opções de lançamento do jogo para forçá-lo a abrir. Uma vez aberto, digite bind your_key toggleconsole </ code> para adicionar uma nova ligação e corrigi-la no futuro. Substitua sua_chave com a tecla que você deseja abrir o console com.
Ativar Comando
A caixa cinza abaixo da janela é onde os comandos são digitados. Eles tem duas formas: comandos e variáveis. Comandos são apenas palavras-chave, porém variáveis ("cvars") necessitam de valores de algum tipo antes de serem ativadas. Quando ativar uma cvar digite algo como isso :
mat_wireframe 1

Quando tiver terminado de digitar, aperte Return ou ↵ Enter para enviar. Você vai ver tudo que digitar 'ecoado' no console.
Veja Também