Developer console/fr
Language subpage
This subpage is used on the Developer console page to display content in this language.
If you have edited the language subpage, do not forget to purge the base page by clicking on the button on the right. Otherwise, its contents will not be updated.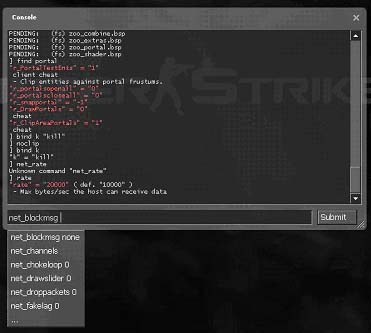 Présentation
La console de devellopement permet d'entrer des commandes dans le moteur Source afin de develloper sa map ou mods.
Pour trouver une commande tapez find suivie d'un préfixe (voir plus bas).
Exemple pour trouver toutes les commandes en rapport avec le rendue vidéo : find r.
Activez la console
Dans le menu Steam, cliquez droite sur votre jeux, Propriétés et set launch option. Puis rentrez cette ligne : -dev -console.
Bug:
La fonction set consol lauch dans les option dans le jeux ne fonctionne pas.
Commandes consoles et variables
Il existe deux type de commandes :
La commandes est executez mais ne reste pas en mémoire une fois le moteur fermer.
Celle-ci garde en mémoire la valeurs. Elles n'ont qu'un seul paramètre, qui peut être un nombre ou une lettres(?). Beaucoup de console variables agissent comme des déclancheurs, 0 est désactivez et 1 activez. Pour voir leur état tapez juste la variable.

Note:
Certaines commandes on besoins que le mode Cheat soit activer, tapez la Convar sv_cheats 1 dans la consol.
Préfixe :
La majorité des commandes on un préfixe, permettant de savoir à quelle types elle appartiennent et ainsi conaitre leur fonctions, mais ce n'est pas toujours le cas notemment pour des commandes venant directement du moteur HL1 Goldsource.
| | |
| --- | --- |
| ai_ | single player AI |
| bot_ | bot system |
| cc_ | close caption system |
| cl_ | multiplayer client |
| demo_ | demo playback |
| disp_ | terrain displacement maps |
| dsp_ | audio DSP settings |
| ent_ | entity control/debug |
| fire_ | firing entity events |
| fog_ | fog renderer |
| g_ | single player game |
| hltv_ | Half-Life TV |
| host_ | host system |
| hud_ | client HUD |
| joy_ | joystick input |
| log_ | logging system |
| m_ | mouse input |
| mat_ | material system |
| mp_ | multiplayer game (server) |
| nav_ | navigation graphs |
| net_ | engine networking |
| npc_ | single player game NPCs |
| phys_ | physics system |
| r_ | video renderer |
| rcon_ | remote control access |
| sk_ | player skill / difficulty |
| snd_ | sound system |
| sv_ | server settings (engine) |
| v_ | client view |
| vgui_ | VGUI |
| voice_ | ingame player voice |
| vprof_ | code profiler |
| wc_ | WorldCraft/Hammer helpers |