$detail/fr
Language subpage
This subpage is used on the $detail page to display content in this language.
If you have edited the language subpage, do not forget to purge the base page by clicking on the button on the right. Otherwise, its contents will not be updated.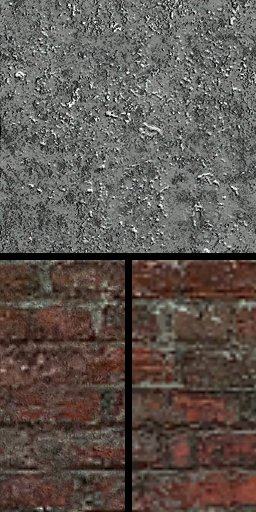 Historique
De près les textures dans un moteur de jeux sont confrontées au même problème, à savoir qu'elles deviennent floues. Une solution consiterait à utiliser des textures très haute résolution mais techniquement cette méthode n'est pas applicable pour des raisons de poids et de performances. Une technique a été trouvée pour palier à ce manque de précision : utiliser une autre texture qui se superpose à la première texture, et qui apparaît quand le joueur est proche. Le premier moteur à utiliser cette technique fut l'UNREAL ENGINE, sorti en 1999. Il utilisa pour l'époque cette technique de façon très avancée, si bien qu'aucun moteur 8 ans après n'a encore dépassé son niveau.
Techniques
Il est possible d'utiliser des texture RVB 24bit (DXT1) ou en niveau de gris 8 bits (DXT5). Il est important d'utiliser le MIPMAP.
Syntaxe
$detail <texture>

Vous aurez probablement à vous servir du paramètre $detailscale.
Paramètres additionnels
$detailscale <float>

L'échelle, valeurs généralement comprises entre 7 ou 8 pour une texture de 128.
Bug:
Les commandes suivantes ne fonctionnent pas.
$detailblendfactor <normal>

L'intensité.

$detailblendmode <bool>

Enable to make the detail texture darken the albedo more.

$detailtint "<RGB matrix>"

Couleurs.

$detailframe <int>

La frame ou démarre la texture animée. Seulement DX9.

$detail_alpha_mask_base_texture <bool?>

À Faire: Something to do with masking $basetexture with $detail's alpha channel?
Requires DX9.
Chemin
Vous trouverez les textures de détails pour Source dans le dossier materials/detail.