Situation Outbreak

This MP mod for Source has been released! Download it now.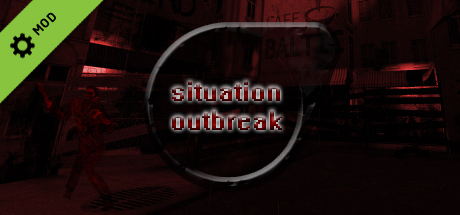 Game Information
Title
Situation Outbreak
Developer
Agent Red Productions
Release Date
September 13, 2009
Current Version
v1.61
Last Updated
January 28, 2010
Genre
Horror
Mode
Multiplayer
Ratings
ESRB: Mature 17+ (M)
Platform
PC
Recommended System Requirements

2GHz Dual Core processor
2048MB RAM
DirectX 9+ GPU with at least 512MB VRAM

Minimum System Requirements

1.7 GHz Processor
1024MB RAM
DirectX® 8 level Graphics Card
Windows® Vista/XP/2000
Mouse
Keyboard
Internet Connection

This game requires that you own a Source engine game such as Counter-Strike: Source, Half-Life 2, or Day of Defeat: Source. Click here for a full list of games that meet this requirement. Please note that Portal: First Slice and the bundled Half-Life 2: Deathmatch do not fulfill this requirement.
Overview
Situation Outbreak is an Orange Box mod about the impending zombie apocalypse. Armed with nothing but a 9mm and a pair of brass knuckles, you must do whatever it takes to survive against the thousands of zombies that used to be your friends and neighbors. The cost of failure is nothing less than your free will. There are no heroes. No single person can save the world and there are not enough bullets to go around. The only thing left to do is to kill the damned, hoping that you don't end up like them.
Description
This is not your average, run-for-your-life zombie mod. Quickly, here are a few things that set SO apart from the competition:
A custom dynamic difficulty system that adjusts game difficulty in realtime based the Survivors' progress on a given map.
Seven new, unique, awesome gamemodes, like Holdout and Extermination.
A completely new arsenal of weapons – all developed in-house by Agent Red Productions.
Survivors can buy weapons and ammo by cashing in points they earn for killing Zombies and zombie NPCs.
Gain experience and level up for useful bonuses and powerups.
Fight off hordes of zombies by hunkering down behind a barricade or going rogue.
Make your own maps using our fully-developed, easy-to-use custom entity set and in-depth tutorials.
Agent Red Productions takes pride in having created the most active zombie-based mod on the Source scene; new updates are being released just about every month!
Gamemodes
Infection
One player is chosen to become the host of the zombie infection - and must infect the rest of the players by tearing into their tasty flesh! This is the classic outbreak style of gameplay. Either the zombies rule the earth, or the humans retake what was theirs!
Survival
Survivors must defend themselves against the hordes of zombies NPCs for a specified amoutn of time. Be sure to keep the zombies off your back - once you go down, you're not getting back up.
Escape
Survivors only have a few minutes to escape before being overrun by zombies! No one must be left behind! One player is chosen to be the host of the infection at the start of the round. Better hurry, zombies don't raise themselves!
Holdout
Similar to Survival, Survivors will find themselves defending their fellows against wave after wave of zombie NPCs. However like Escape, there's a twist: the Survivors must also defend a specified holdout area until time runs out. Therefore the mission is not only to survive the infection, but to contain it, which makes this gamemode notably harder than the others.
Overlord
Often deemed an Infection-Survival hybrid, one player is chosen towards the start of each round to be the zombie overlord. As a zombie overlord, a player is capable of killing Survivors for points either by using their zombie claws or by spawning their own army of zombie NPCs to command. These points can then be exchanged to spawn even more zombie NPCs. If a zombie overlord is ever killed during the middle of a round, they are spawned as a Survivor and another zombie overlord is chosen to take their place. This continues until a zombie overlord successfully destroys the human race or until time runs out, in which case the Survivors win.
Objective
Often deemed a Escape-Survival hybrid, Survivors must complete a set of objectives before they can escape to safety with the additional twist of having to defending themselves against endless waves of zombie NPCs. If the Survivors fail to complete all of their objectives before time runs out, they lose, making this gamemode the most versatile and open-ended as far as what objectives the Survivors are assigned to complete. As an added challenge, players never respawn once they are killed.
Extermination
At the beginning of the zombie apocalypse when there was still organized government, the Military was willing to do anything and everything it could to prevent the spread of the infection - even if it meant killing their own citizens. This fast-paced, epic deathmatch-style gamemode pitches the Survivors against the Military. Anything goes, and ultimately only one force can come out on top.
Screenshots
Team

Lead Developers

James Pizzurro (£cho) - Coder, Mapper, Compiler, Animator, Public Relations
Jordan Nolan (GlitchedSystem) - Coder
Developers

Harrison Burton - Mapper
Ryan Gaston (Stubby) - Mapper
(Sethen) - Mapper
Ryan (Undead) - Public Relations
Patrick Nielsen (Red Caste) - Public Relations
(Rusty) - Texture Artist, Compiler
Stephen Swires (SteveUK) - Coder
Ryan Gholson - Modeler
Jarlan Perez - Texture Artist
Chris Mathews - Modeler, Texture Artist
Wallace Fajardo - Modeler
Chris Roth - Texture Artist
Thanet Gasorntip - Mapper
Curtis Williams - Mapper
Michael Perron - Modeler
Brian Smith - Concept/Illustrator
Leonardo Carrion - Texture Artist/Animatior
Kai B. Sidler (woookieee) - Mapper
(Third Eye) - Mapper
Marcell James (NegroSaki) - Sound Artist
Kevin Greenlee (LoudCore) - Sound Artist
Tutorials
External Links