Propper:ru
Вступление
Propper это изменённая версия vbsp. Проппер компилирует ваш vmf в формат mdl, вместо bsp.
Много мапперов хотят создать для своих карт пропы, но не имеют возможности\не хотят изучать программы для моделирования. Этот инструмент позволяет очень просто создавать пропы прямо в редакторе уровней Hammer. Он будет также полезен для моделлеров, которые работают с мапперами. Проппер оставляет текстуры такими, какими вы их наложили в редакторе и автоматически генерирует физ. меши.
Особенности
Может создавать статичные, динамичные и физические пропы.
Генерирует .qc файл и автоматически компилирует проп для использования в вашей игре.
Генерирует рабочие физ. меши.
Автоматическое конвертирование материалов, т.е. превращение текстур карты в правильные модельные текстуры.
Разпознаёт реальные текстуры и "инструментные" текстуры (текстуры триггеров и т.п.).
Respects Hammer smoothing groups or autosmooth.
Настройка вашего пропа прямо в Hammer-е.
Поддержка дисплейсментов - выводит любые поверхности с дисплейсментами (not solid).
Поддержка скинов - использование нескольких текстур на вашем пропе.
Настраиваемая поддержка гибов (gib - обломки).
Поддержка $keyvalues: соединения, партикли и взаимодействие с физганом.
Планируемые фичи
Вывод нескольких моделей с одной карты.
Автоматический отбор невидимых поверхностей.
Поддержка LOD.
Скачать
Публичный бета-релиз доступен для скачивания! http://crazycarl.hl2sm.com/files/propper_0.24.zip
Инструкции по использованию
Установка
Здесь представлены две версии Проппера. Одна из них предназначена для SDK версии 2006, а другая работает с 2007 и 2009 версиями. Файл .fgd (Forge Game Data) есть в обоих версиях, он поможет вам настроить ваши пропы.
Папки в данном архиве соответствуют папкам SDK. Следовательно, для успешной установки вы должны расспаковать файл в папку steamapps\<ваш_акканут>.
После установки, вы должны немного изменить свою игровую конфигурацию. Запустите Hammer, предварительно изменив игру и версию движка на те, которые вам нужны для работы с Проппером. Когда Hammer запустится, в верхнем меню проследуйте в Tools > Options.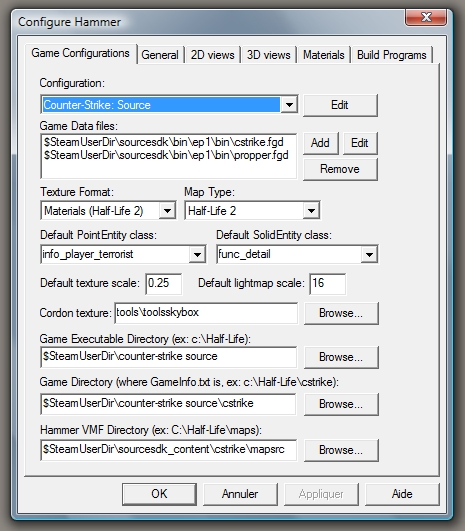 Найдите поле "Game Data Files", и нажмите кнопку "Add". Откройте файл propper.fgd. Теперь жмите OK или Apply для сохранения настроек. Наконец, перезапустите Hammer, что бы настройки вступили в силу.
Создание пропа
Для использования Проппера, скопируйте нужную геометрию (всё, что составляет вашу модель) и вставльте это в новый, пустой .vmf (File > New). Здесь есть три энтити. Первая, propper_options, нужен для того, что бы ваш проп нормально скомпилировался.
Поместите одну такую на вашу карту (которая, напомню, должна состоять ТОЛЬКО из брашей, из которых планируется создать модель) и загляните в её настройки:
| | |
| --- | --- |
| Name | Имя, которое используется для обращения к этой энитити другими энтитями (для проппера этот пункт не важен) |
| Origin (X Y Z) | Позиция энтити в мире. Вращающиеся энтити обычно вращаются вокруг своей оси. |
| Model Name | Пути (к конечной модели) и название конечной модели. Относительно пути <ваш_мод>/models модель будет создана здесь, внутри папки "models" выбранного вами мода или игры. Указывать формат .mdl не нужно. |
| Material path | Это путь к текстурам модели. Пример пути: <ваш_мод>/materials. ВАЖНО: убедитесь в том, что указанная папка существует, перед тем как запустить компиляцию! Проппер распакует материалы (т.е. текстуры) из вашего мода или игрового кэша и создаст их копии в указанной в этом поле папке. |
| Scale | Изменение размера модели. |
| Surface property | Физические свойства модели - звуки столкновений и вес пропа. |
| Concave collisions | Используется для создания модели столкновений внутренних пространств пропа. Если вы выберите "no", то модель будет "запакована", т.е. если ваша модель представляет квадрат с пустотой внутри, то эта пустота будет игнорироваться и через неё не сможет никто и ничто пройти. Иначе - все внутренние пустоты станут невидимыми полигонами этой модели (вольный перевод - поправьте, если я ошибаюсь). |
| Produce collisions? | Выбор "Yes" будет означать, что проп материален, т.е. сквозь него нельзя пройти. |
| Smoothing mode | Определяет, как вершины нормалей вычислены для освещения. |
| Source folder | Место, где вы хотите сохранить ваши .qc и .smd файлы. Финальная дерриктория будет иметь вид <ваша_папка>/<имя_модели>. Опять таки - убедитесь, что указанная папка существует! Вы можете указать любое место на вашем HDD. |
| Smoothing threshold | Если auto-smooth включён, то края, более плоские чем этот угол, будут казаться гладкими. От 0 до 180. |
| Snap to Hammer | Заставляет каждый вертекс привязаться к ближайшему узлу сетки (поправьте, если я ошибаюсь). |
| Welding threshold | Вертексы будут соеденены, если находятся в данный пределах (попровьте, если я ошибаюсь). Значение 0 (ноль) не рекомендуется, т.к. могут появиться разрывы. Большее число объединит вертексы вместе, что может быть полезным для оптимизации вашей модели. |
| Model Origin | The model's origin point defines how it is lit and is how the prop is positioned in a map. Auto-center puts the model's origin at the center of its bounding box and is recommended for physics props. For static props, put the origin somewhere that lets you align the prop easily. |
| Automatically compile | По умолчанию, Проппер запустит studiomdl для компиляции вашего пропа. Вы можете отключить это, если хотите использовать Проппер как .smd-экспортер. Или вы можете добавить опции к .qc файлу прежде, чем скомпилируете проп. |
| Fix up materials | По умолчанию, Проппер делает копии всех материалов, использованых в модели, и переконвертирует их в понятный моделям вид. Вы можете отключить эту опцию. |
| Disable normal mapping | Удаляет бамп-мапы из конвертированных материалов. Это в случае, если вы используете -StaticPropLighting для освещения вашего пропа. |
| Don't warp displacement textures | В Hammer-е, если вы переместите вершину дисплейсмента, то текстура так же сместится. Если вы выберите "yes", то текстуры не сместятся. |
Example Path Settings: This user was building a brick archway model called "arch" for a map for submission during the TF2 Artpass competition. In the propper_options entity, the following settings were used:
Model Name: artpass/arch
Material path: models/artpass/arch
Source folder: C:/propsource
Running Propper: You run Propper just like you would compile a map with vbsp. Pass it the current game directory and your vmf file.
propper.exe -game $gamedir $path\$file

Propper will compile the model automatically unless you disable that function.
You can run Propper from within Hammer. Just create a new Run configuration and run propper instead of vbsp.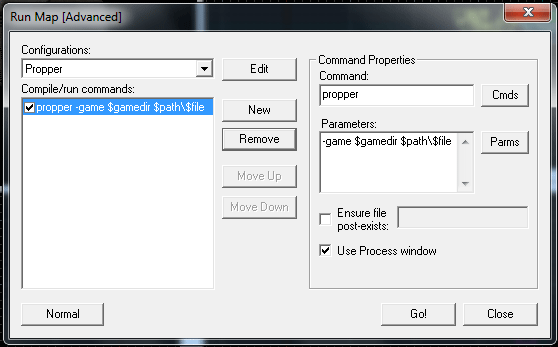 You should now have a new prop available to you! If you are replacing an existing model, you may have to restart Hammer to see the changes.
Additional options
There's also the propper_physics entity. If you place this entity in your map, Propper will produce a physics prop. See Prop data for documentation on the following.
| | |
| --- | --- |
| Name | The name that other entities refer to this entity by. (not used by propper) |
| Origin (X Y Z) | The position of this entity's center in the world. Rotating entities typically rotate around their origin. (not used by propper) |
| Health preset | Dictates how strong the prop is vs. different weapons. |
| Health | Overrides the prop's health. Setting this to 0 will make the prop unbreakable. -1 will use the default value from "Health preset"(recommended). |
| Mass | Weight of the prop in kg. Enter zero or lower to automatically calculate mass. |
| Flammable | Will it burn? Picking this enables the 'ignite' options. |
| Ignite at half-health | Just like those barrels in HL2. |
| Ignite from explosions | Won't break right away if something explodes near it, but will ignite. |
| Explode damage | Damage to do when breaking |
| Explode radius | Radius of explosion |
| Gibs | Generic shards to spawn when the prop breaks |
| Gib count | How many gibs? |
| Gib skin | Which skin to use on the gib models, if applicable. |
New in version 0.22 is propper_skins. Propper can create alternate skins by replacing a texture that is on your prop. If you have multiple textures on your model that you want to change, you can use this entity more than once.
| | |
| --- | --- |
| Name | The name that other entities refer to this entity by. This is not used, but will be in the future. |
| Material | Pick a texture that's present in the original model. This will be skin 0. |
| Skin(1-14) | This texture will replace the original when you pick skin #. |
New Entities in 0.23
propper_attachments: add attachment points to a model (for cables and particles)
propper_cables: add ropes/cables to dynamic models!
propper_particles: attach particle emitters to dynamic models (2007 engine and later only)
propper_physgun_interactions: add custom behavior to physics props--eg. stick to walls, paint splatter, impale enemies
propper_gibs: pick custom physics models to use as gibs when the prop breaks
FAQ
I can't find these prefabs I've heard about. Where are they?
Propper no longer includes any prefabs for the config entities. You should use the entity tool and find propper_options in the list of entities.
My prop's collisions are wrong. It's solid where it shouldn't be.
There are some cases where two brushes get combined into one big collision piece. Try to avoid making brushes overlap and it should not be a problem.
I made a large building into a model and the lighting is not as good as a brush model. What gives?
Models in Source use rather simple vertex lighting, whereas brushes get radiosity lightmaps. What that means in simple terms is your map gets nice soft shadows and bounced light, but props don't. Buildings just look better when they're made from brushes.
In some cases, you can get better lighting on your props by enabling per-vertex lighting when you compile your map. In the command line of vrad, include -StaticPropLighting to enable that feature. Models that use normal mapping aren't compatible with per-vertex lighting, so use the "Disable normal maping" option when you use Propper.
Propper quits with an error saying it can't open such-and-such file.
Be sure that you have permission to write to that folder, that it's not write-protected, and that you have entered a valid folder.
Why would I want to make a prop anyway?
It's also not uncommon for mappers to run into the brush/face/plane limits for a very large or detailed map. Props let you add detail to your map without pushing this limit. If a feature is used several times in a map, making it a prop will reduce the size of the .bsp and the system memory needed to run the map.
Models can be smaller and more precise than the stuff you make in Hammer. Plus there is the fun stuff Propper lets you do with physics models.
Hammer's a mapping tool! People who want to make models should learn a real modeling program like Blender or XSI.
I agree, but maybe they don't want to. For better or worse, people are more comfortable working with tools they know. Propper was originally meant to be a map optimization tool, but people have used it to make some very nice models.
Bug reports
If you run the tool on a map with no brushes (displacements don't count), Propper will crash. This is an obscure bug from vbsp and I haven't managed to track it down yet. If you encounter this bug, just stick a nodraw, func_detailed brush in the map.
Tips/Caveats
You can use visgroups to hide brushes; They will be ignored by Propper.
If you make any brushes func_detail, they will be non-solid in the finished prop. Using any other entity seems to cause problems, however.
If you use certain invisible textures (eg. clip, nodraw, sky), on a face, that face will be erased. You can lower the final poly count of your model by using nodraw on any face that the player won't see.
A good way to work is to make your visible model a func_detail, and then make a very simple collision model on top of that, out of nodraw brushes.
Hammer limits you to its one-unit grid while you work. However, you can make your model at a larger scale--say, 16:1--and then tell Propper to scale it down to the correct size. That would allow you to model objects as small as 1/16 inch. (You can also resize brushes within Hammer itself, as always.)
Don't set "materialpath" to the same folder as any of your map textures. The model materials may overwrite your map materials! It's best to follow the convention of putting model textures under "models\"
Propper will over-write files without asking, so make sure there are no files in your selected folders that you don't want to lose.
Left 4 Dead
Propper doesn't currently support Left 4 Dead. If you are mapping for L4D, you can try the following:
Extract the materials (vmt and vtf files) you want to use from L4D using Gibbeds_VPK_Extractor and mirror them in an Orange Box game that you own (such as Episode 2).
Run Propper from the Source SDK as normal.
Take the files created by Propper and copy them into your L4D folder.
Source Code Patches
The source code for Propper is available as a patch to Valve's SDK code. (Since Propper is a hacked version of vbsp.exe, I don't want to release the entire code--most of it belongs to Valve).
First create a new mod through the Source SDK (either OrangeBox or Ep1). Find the project for vbsp. Visual C++ Express 2008 can compile this project with no problems. If you select the "Release" version, you will create a new vbsp.exe.
0.24 version patch is available if there is a demand!
Then download one of my patch files:
http://crazycarl.hl2sm.com/files/vbsptopropper_b22_OB.patch for Orange box, or
http://crazycarl.hl2sm.com/files/vbsptopropper_b22_EP1.patch for EP1.
Follow these instructions for Setting up Tortoise SVN to apply a Patch, substituting the vbsp folder for the game code. Your vbsp source code is now the source code for Propper. Edit and compile it as you wish.
Disclaimer
This program has been used with some success by community mappers. It's based on vbsp, which we all know and trust not to destroy our PCs. That said, use at your own risk. I claim no responsibility for damage to your computer of games that may occur while using Propper.
External Links
Steampowered forum thread on Propper
Some tutorials have been made to help with using Propper.
World of Level Design: Propper Tutorial (Part 1 - Basics) – By Oilcake
Youtube: Hammer Tutorial #24 Propper by rocketrascal34
Youtube: uber's tutorial series; making a prop_physics from brushes with the Propper tool by UBER069