Hammer Textures Toolbar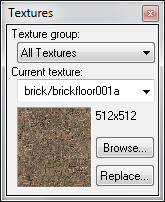 This Hammer toolbar allows for selection and browsing of materials so they can be applied to map geometry.
Texture Group
Use the Texture group text box to view a different subset of textures. You will have a choice between viewing all available materials, or viewing materials from individual mod directories. Pick an entry from the list, and only that groups of materials textures will be available for selection.
Current Texture
The Current Texture lists the last eight materials used, then continues with a list of the remaining available materials (as dictated by the Texture group selection).
Browse...
The Browse... button opens the Texture Browser dialog, where you can select from all available materials.
Replace
The Replace button will bring up the Replace Textures dialog, where you can can search and replace materials for one another.