Half-Life 2: Revolution
This mod for Source is no longer being developed.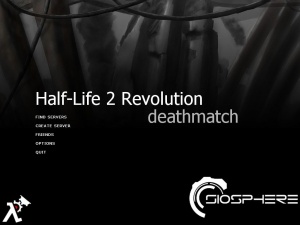 Overview
A new sense of realism, more dynamic gameplay, and a big SP Campaign—that's what Half-Life 2: Revolution is all about.
Immerse yourself in a game with an entirely redesigned gameplay system that adds a huge depth of realism to Half-Life 2. Experience realistic kickbacks and a completely balanced weapon system.
Features
A Complete 7 Chapter SP Campaign
Tons of Added Weapons
Multi-passenger vehicles
COOP Missions along with Regular DM
Third-person vehicles
New vehicles, including the Plasma Racer
New and improved interactive menu for the server
New HUD layout for weapons
Voting system
And much, much more...
Media
History
Half-Life 2: Revolution used to be Half-Life 2.5, and before that it was The All Weapons Mod. I believe we were the first Source mod to incorporate the Gauss Gun (Tau Cannon), and we probably were the first Source mod to get a decent model for it. We have been around for a long time—almost as long as Half-Life 2 DM has been out. We have been quiet for a while, but now we are coming back with an all-new name, Half-Life 2: Revolution.
Team
Team Leader/Website Designer/Graphic Designer/Lead Programmer/Lead Modeler: Michael Kramer (Gameexpertmaster)
Lead Animator/Modeler: James Murray (Sub-Zero, Terminator1324)
Other info
The current release version is 0.02; it is still in beta. The features of this version include:
Gauss Gun (A completely new model than in previous versions, as well as an accurate shot through walls)
Long jump
External links