盖瑞的模组
Garry's Mod:zh-cn 是基于 Source SDK 2013 的引擎分支. 因此,本wiki有关 Source SDK 2013 的大部分文档也可能适用于 Garry's Mod:zh-cn.
概述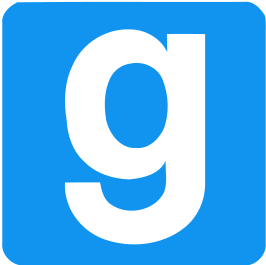 Garry's Mod 诞生于 Something Awful 论坛. 虽然大家都在享受者 JBMod, 但是它的开发已经放慢了速度. 所以 Garry 创建了 Garry's Mod, 一个简单的 Half-Life 2 模组.
Since then, Garry's Mod has advanced through 13 versions, each with more features than the last. The latest version has a massive host of features, such as easy ragdoll posing, keypads, doors, buttons, dynamite, welding, and just about everything needed to create contraptions as well as comics and machinima. It is now standalone and works on every Source game the user owns.
Garry's Mod itself has a large mod base. It supports Lua, which is used by fans to make new weapons, entities, and gamemodes. Gamemodes range in genre from roleplay, survival, sports and far beyond.
Garry's Mod is by far the most popular Source mod, and was the first mod ever distributed through Steam.
Garry's mod as a development tool
Garry's Mod is useful for Source developers, and can greatly fulfill certain tasks needed to make new mods. Tasks such as:
A way to place and or move props in MAP_EDIT mode
A user-friendly demonstration tool

Chat with other modders and share ideas through text and usage of Gmod tools. Devs can use Gmod's tools to cooperatively share ideas about mod scenarios with players. Gmod can also be used to demonstrate a new map and discuss features without NPCs.
Stress-test Source

Use Garry's Mod to test abusive usage of the Source engine, like spawning hordes of zombies, spamming explosive barrels and other intensive things. Will it crash? Will it freeze? Will the network buffer overflow?
Quickly test game elements

With the implementation of Lua scripting, you can create new game elements and weapons without using the Source SDK and make the process go a lot faster.
Mapping Stuff
Getting started in the Hammer editor for Gmod!
Distribution
Garry's Mod is available on Steam. Garry and Valve split profits 50/50. There will likely be no retail version of Garry's Mod available.
External links