Fortress Forever
Fortress Forever expands on the classic Team Fortress action as well as introduces new elements to improve accessibility for players new to the genre. If you ever find yourself antsy waiting to get back into the action in other multi-player games, then this is the game for you. It's not all instant gratification though; within the game there are classes to suit every player's style, be it stealth, finesse with movement, precision aim, the joy of wielding a ridiculous amount of explosives -- or simply brute force. Even within these classes (10 total, 9 standard) you can go about developing your own playstyle.
Gameplay screenshots
Media
The comprehensive media section features screenshots of maps and models, wallpapers, concept art, and even a steel logo by fan Hired-Gun.
Also available:
Logos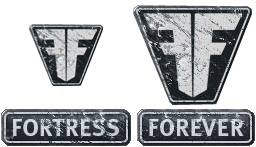 More information
| | |
| --- | --- |
| | This article is a stub. You can help by adding to it. |