Создание Модификации
From Valve Developer Community
Кнопка Create a Mod автоматизирует процесс создания Source мода. Она:
Создает новый мод по этому пути steamapps\SourceMods\
Делает копию исходных файлов в формате Visual Studio Project для последующего редактирования
Создает конфигурационный файл для вашего мода Source SDK
Версии движка
Перед созданием мода необходимо выбрать версию джвижка которую вы будете использовать. Измините версию SDK на ту которую вы хотите использовать.
Устаревший - Первоначальная версия Half Life 2: Episode One. Оставлена только для обратной совместимости.
Оригинальная версия Orange Box. Это самая последняя основанная на HL2 версия движка которая доступна для создания мода. Это именно та версия на которой сделано большинство модов.
Обновленная Orange Box версия. Это текущая версия движка с поддержкой Mac. Однако, вы НЕ сможете создать полноценный мод на Source 2009; только content-only мод (включающий в себя новые модели оружия/текстур и т.д.) воспользовавшись ручным созданием с помощью этой подсказки Creating a Mod manually.
Для создания мода к этой игре используйте ее SDK. Так же возможно использование HL2 контента
В 2013 версии, Valve прекратила поддержку исходных кодов через Source SDK с выпуском SteamPipe. В связи с этими изменениями, были обновлены до последних версий исходные коды основывающийся на HL2 ветке Source Engine. На этот раз, исходный код не сделан доступным через SDK Launcher, а вместо этого размещен на Github. Смотрите Source SDK 2013 для подробной информации.
Мастер создания
Project type
When you start the wizard, you will have to choose which project to work with.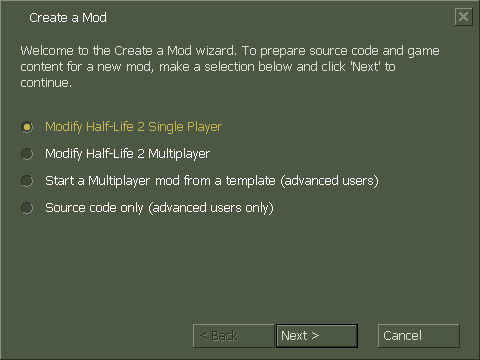 Half-Life 2 Single Player

Projects for Episode One (2006) or Two (2007). If you do not own Ep1/2 this option will be greyed out.

Half-Life 2 Multiplayer

Projects for Half-Life 2: Deathmatch. This option is only available if you own Half-Life 2: Deathmatch; otherwise it will be greyed out.

Multiplayer mod from template

A specially-created SDK project that allows you to configure settings such as if your mod is team based, or if you have abilities such as sprinting and prone. This option does not require Half-Life 2: Deathmatch.

Source code only

Dumps the code without creating an actual mod. This option is handy if you are just creating a server plugin.
Whichever option you choose, you get the same actual source code files (even if you didn't own one or another game). You also get an "everything" solution which includes a collection of development tools.
Mod Information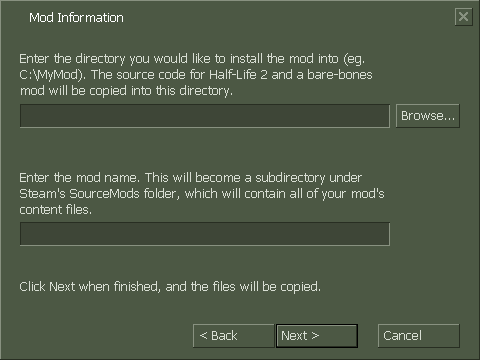 The first option on this page is where you want the source code extracted to. The second is the name you want to use, which also defines the output folder for your compiled content (does not appear if you chose source code only).
Creating a mod manually
It's surprisingly simple:
Create a folder under steamapps\SourceMods\ (A mod can actually reside anywhere, but placing it here allows Steam to detect and launch it.)
Create a gameinfo.txt in the folder. You now have a mod!
Open the SDK launcher and switch to the relevant engine branch.
Choose "Edit Game Configurations" and click "Add". Enter your mod's name and folder.
To get the source code (or indeed any other files of Valve's that you want to modify) you will need to use GCFScape and access sourcesdk.gcf\src_mod\. Remember to change the custom build steps to point to your mod's folder.