Books:ru
Эта страница нуждается в переводе.

Данная страница содержит информацию, которая частично либо некорректно переведена, или здесь вообще нет перевода.

Если страница не может быть переведена по некоторым причинам, или она останется не переведённой длительный период после того, как это сообщение помещено, эта страница должна быть поставлена на удаление.

Также, убедитесь в том что статья пытается соответствовать статье об альтернативных языках.

Кроме того, не забудьте использовать русский словарь переводчика.
Mapping and Modding Half-Life 2 Complete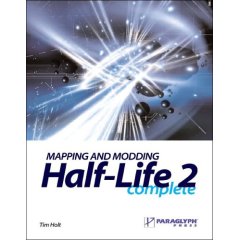 Author: Tim Holt
Paperback: 456 pages
Publisher: Paraglyph Press; 1 edition (release date June 2006)
Language: English
ISBN: 1933097132
Abstract: Modding is the new craze that has taken the gaming world by storm. And Half-Life 2 provides the premier game engine that modders all around the world are using to enhance the highly popular Half-Life game and create exciting new custom game features. As many modders like to say, "The possibilities are endless." This unique book shows all Half-Life 2 fans everything they need to know to work with the powerful game engine and customize their own games using clever mapping, modding, and modeling techniques. With Mapping and Modding Half-Life 2 Complete, game fans will get a chance to progressively expand their skills at mapping and modding. This is a one-of-a-kind book, jam-packed with insider tips and techniques by a leading Half-Life 2 modding expert.
Buy: Amazon
Links: Author's Blog
Half-Life 2 Hacks
Author: Mark Holt Walker
Paperback: 304 pages
Publisher: O'Reilly; 1 edition (March 1, 2006)
Language: English
ISBN: 0596101309
Abstract: The bestselling Half-Life computer game has won more than 50 game-of-the-year awards from publications around the world. Valve's latest release, Half-Life 2, has been tabbed "the greatest PC game ever" by the gaming press. With its gripping single-player campaign, immersive story, and breathtaking visuals, it's no wonder that millions of gamers have already snatched it up.
But if you're just playing the game start to finish, you haven't seen the half of Half-Life 2. Half-Life 2 Hacks is the must-have strategy guide for gamers who are adventurous enough to explore all the modifications, tweaks, Easter eggs, and conversions that can make the game even more intense and challenging.
Half-Life 2 is wildly popular with "modders" who push the game to its outer limits by constructing new levels, developing software that prevents cheating in multiplayer games, and building entirely new mods (whole new games, in essence) based on the Half-Life 2 engine. Author Mark Walker, a veteran electronic entertainment industry journalist and syndicated "GameGuy" columnist knows what a phenomenal game Half-Life 2 is--and how much more phenomenal you can make it with the right tricks, tweaks, and hacks.
Walker's Half-Life 2 Hacks opens up Half-Life 2's anomalies, cheats, and Easter Eggs and covers all the essential hacking and modding tips and tools you need to master and modify the greatest PC game ever. Along with cool tactics and strategy ploys, the book provides a collection of weapon, level, and vehicle hacks and explains things like how to beat the beasts and bosses that block your path.
Half-Life 2 Hacks even shows you how to get started on designing your own Half-Life 2 levels, textures, models, and downloadable maps as well as playing mods from others. There's no better guide to the countless ways you can enjoy the unbelievably intense and realistic Half-Life 2.
Buy: Amazon