Age of Chivalry
Template:Alphamodsmall
Age of Chivalry is a total conversion for Half-Life 2 currently being developed by Team Chivalry. We are a close group of friends who are dedicated to creating a fun story driven multiplayer experience set in a fantasy world in the medieval ages. We are creating a fast paced and fun first person melee combat system that will take the player to a new level of immersion. The players will be able to take part in sieges, town raids and open war in a story driven game. Our goal is to let the players write the history of the game as the teams battle it out over a sequence of user controlled map cycles depending on the victor. We want to take the overall experience to a new level of fun.
All of our members have a solid modding background and we hope that you support our modification as it grows and develops! ModDB Age of Chivalry Homepage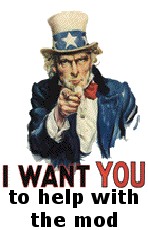 - Programmer -
We are looking for a talented programmer to help us finish our mod project. We are working with Valve´s Half-Life 2 engine Source. A huge plus is if you have worked on a mod team before. We are looking for someone that could take this game to a higher level. We dont have an age policy, but our team have a high mid age. The person we need must have the ability to work hard on this assignment. What we give u back is the ability to work with an amazing team of very talented artists.
Object oriented experience in a language like java, c#, C++, etc. C++ HIGHLY preferred.
Any experiences in game programming, client/server heirarchies, or GUI development all a big plus.
Experience with CVS (perforce preferred, but not needed) and/or visual studio (visual studio will be needed to develop)
Read more about the Source engine here: http://developer.valvesoftware.com/wiki/Source
The mod project you will be working on, Age of Chivalry: http://www.age-of-chivalry.com
If you are interested in the position, apply at: [email protected] or use the form on our webpage, found under 'Contact'.
Age of Chivalry
http://www.age-of-chivalry.com
[email protected]